Marketing & Communications
CMP can work with you to develop a strategy for using digital forms of communication to promote your conference. We can facilitate email campaigns and share information via social media. CMP can also develop and host a branded website so that participants can register on-line and find answers to frequently asked questions. This is an excellent way to keep them up-to-date on conference activities and logistics.
Let us ensure your conference materials work collaboratively together and look great! From name badges to program books, CMP will work with you to find the best solution that fits your budget. Our in-house team can edit, proofread, and format both print and digital documents.
Thinking about a webcast? CMP can facilitate live and archived on-demand webcasts. These videos can be an excellent marketing and communications tool. We can also provide you with the videos for posting on your website, YouTube channel, etc.
Benefits of CMP's marketing and communications services:
Increases attendance.
Affordable approach to reaching your target audience.
Ensures that participants are up-to-date on conference activities and logistics.
Allows more time for your staff to focus on conference content and sponsorship.
Ensures that print and digital materials are accurate, well-written, and properly formatted.
Provides secure locations to archive correspondence, webcasts, and other documentation for future conferences and marketing efforts.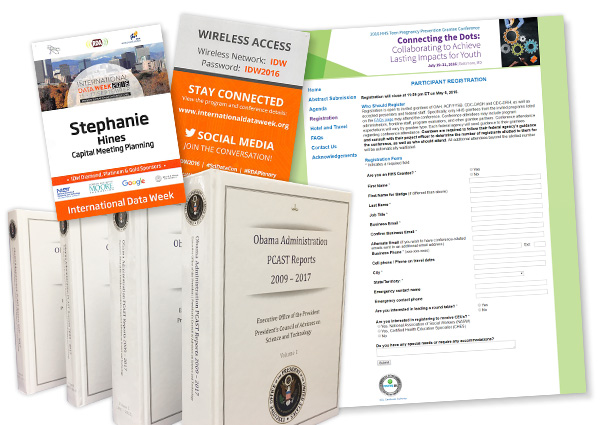 "If you need to organise an event, CMP is not an option, it is a MUST. I have been fortunate to work with CMP for the organisation of three major international events over the past 4 years. They are professional, efficient and flexible to work with, nothing is ever a problem just a solution they will always find. They make organising an event a joy and a pleasure. As event management organisations go, I have yet to meet one that compares with CMP and highly recommend them."
– Hilary Hanahoe
Director, Trust-IT Service Ltd., Pisa, Italy