Exhibit & Trade Show Management
Are you planning to have a trade show as part of your conference?
CMP can help! We develop and host on-line exhibitor applications, manage all logistics, serve as a single point of contact for your exhibitors, and provide on-site support. We will work with you to contract and negotiate with your decorator and trade show vendors to get you the best service and best value for your trade show.
Does your company need help participating in a trade show?
CMP can help with this too! We work with several clients to facilitate their participation in trade shows. This includes reserving booth space, placing orders (i.e. A/V, internet, computers, furniture, carpet, cleaning, etc.), and providing on-site support for set-up and dismantling.
Benefits of CMP's exhibit and trade show management services:
Professional, attractive, and engaging exhibit hall.
Visibility for sponsors and exhibitors.
In-house development of exhibitor registration site.
Established relationships with show decorators.
Dedicated on-site exhibitor services manager.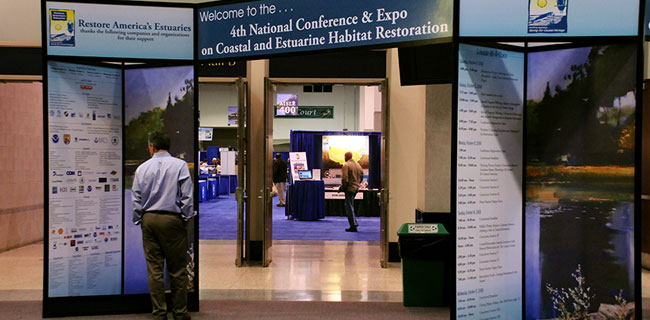 "We've been working with Capital Meeting Planning (CMP) for the last 11 years. They facilitate our participation as an exhibitor at the Society for Neuroscience annual meeting. Having CMP keep track of contracts, deadlines, and booth details really saves us time, and is well worth the cost. CMP is very efficient and they get a lot done in a minimal number of hours. I highly recommend CMP's services."
– Helena Ledmyr, Ph.D.,
Head of Development and Communications, INCF, Stockholm, Sweden